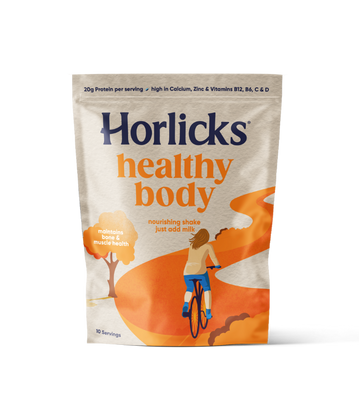 Try as we might to fight it, our bodies are not immune to aging. That's why a daily intake of recommended vitamins and protein are so important. Our Healthy Body nourishing shake contains vitamin D, calcium and zinc to support healthy bone and muscle function.  Helping you to feel stronger with more vitality.
Healthy Body is also blended with glucosamine and MSM which each bring a unique benefit to the shake and together make a potent powerhouse of goodness. The added protein also contributes to maintenance of normal bones and muscle mass
Horlicks Healthy Body 400g
HHBODY
Ingredients
WHEAT 28% (WHEAT Flour and Malted WHEAT), Malted BARLEY 27%, Whey Protein Concentrate (MILK), Skimmed MILK, Dried Whey (MILK), Calcium Carbonate, Sugar, Palm Oil, Salt, Potassium Carbonate, Vitamins and Mineral Mix (Zinc Sulphate Monohydrate, Vitamin D2, Vitamin C, Vitamin B6), Glucosamine, Methyl Sulfonyl Methane (MSM), Anti-caking Agent (E551), Emulsifier (Sunflower Lecithin).
40g serve with 300ml Semi Skimmed Milk
Pantothenic Acid (Vit B5), mE
Join our Mailing List
Stay up to Date
Be the first to hear the latest news on our business and brands.
Follow Us
Get Latest News
Follow Aimia Foods and our brands to stay up to date.