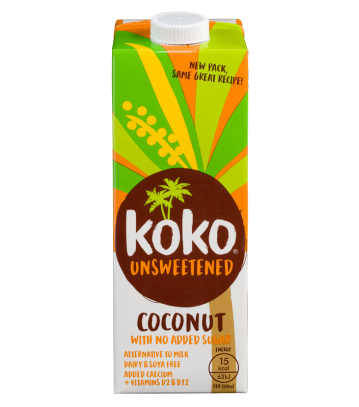 Koko Unsweetened Coconut Milk, the unsweetened dairy free alternative to milk made with coconut milk and fortified with calcium and vitamins.
Koko
Discover fabulously foamble plant based milk from Koko. Ambient long life. Delicious neutral milky taste - surprisingly like dairy therefore works well with any coffee type or blend.
Koko does not contain the 14 major allergens including nuts, gluten, dairy and soya, and has added calcium and vitamins giving you all the same benefits of regular dairy milk.
Koko Unsweetened Milk
60186
Ingredients
Water, Coconut Milk (7%), Calcium phosphate, Emulsifier (Sucrose ester of fatty acids), Sea salt, Stabiliser (Gellan Gum), Colour (Carotene), Vitamin D2, Vitamin B12
Join our Mailing List
Stay up to Date
Be the first to hear the latest news on our business and brands.
Follow Us
Get Latest News
Follow Aimia Foods and our brands to stay up to date.