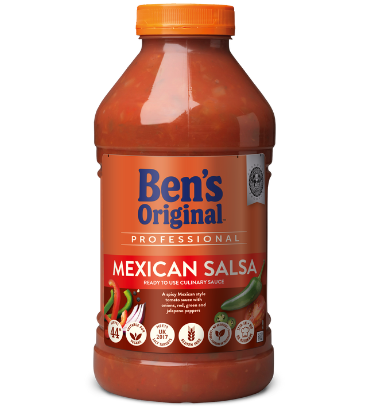 Ben's Original Professional Sauces
Mexican Salsa Sauce 2.23kg
A spicy Mexican style tomato sauce with onions, red, green and jalapeno peppers
Professional Catering, Made Easy
With extensive expertise in making the highest quality catering products, Mars Foodservice is committed to supporting caterers and making it easier for them to serve consistently great food.
The versatile range of catering sauces and rice cover a wide variety of cuisines and are quick and easy to cook and the Ready to Use sauces can be used straight from the jar. The range of sauces are extremely versatile and can be used from the base ingredient of your meal, to a dip, or to a salad dressing. Ben's Original and Dolmio customers have access to a bank of recipes; demonstrating hundreds of ways to use our versatile and delicious sauces, ensuring no wastage.
A spicy Mexican style tomato sauce with onions, red, green and jalapeno peppers
9604302
Ingredients
Tomatoes (48%), Onion (18%), Green Pepper (12%), Tomato Paste (10%), Red Pepper (4.0%), Sugar, Vinegar, Salt, Modified Maize Starch, Acidity Regulator (Lactic Acid), Natural Flavouring, Jalapeno Pepper, Coriander, Spice
Join our Mailing List
Stay up to Date
Be the first to hear the latest news on our business and brands.
Follow Us
Get Latest News
Follow Aimia Foods and our brands to stay up to date.