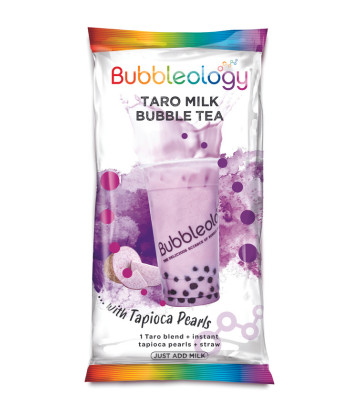 Taro Milk Bubble Tea Single Serve
Each Sachet Contains: 1x Taro Blend, 1x Tapioca Pearls, 1x Large Straw | Just add milk & ice
Bubbleology Taro Milk Bubble Tea
Ingredients
Skimmed Milk Powder, Sugar, Fructose, Dextrose, Thickeners (Xanthan Gum, Carrageenan Gum, Guar Gum, Locust Bean Gum), Natural Flavourings, Anti-Caking Agent (Silicon Dioxide), Colour (Beta-Carotene).
Per serving (Taro Powder + Tapioca Pearls + 100ml Water + 200ml Semi-Skimmed Milk)
Per 600ml Serving (23g + 245ml Semi-Skimmed Milk)
Join our Mailing List
Stay up to Date
Be the first to hear the latest news on our business and brands.
Follow Us
Get Latest News
Follow Aimia Foods and our brands to stay up to date.