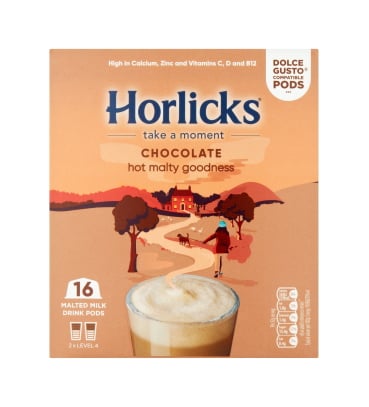 Deliciously rich and comforting. Instant chocolatey goodness with our signature Horlicks twist.
Horlicks Chocolate Pods
Horlicks Pods deliver a convenient, easy-to-make delicious drink that's frothy and creamy in texture.
No mixing, no messing, just the authentic hot malty goodness of Horlicks - perfect every time. Horlicks Chocolate Pods are a frothy, creamy and indulgent treat.
Instant Chocolate Malted Drink
HLKPODC
Ingredients
Wheat 25% (Wheat Flour and Malted Wheat), Sugar, Malted Barley 13%, Dried Skimmed Milk, Fat Reduced Cocoa Powder 6.6%, Dried Whey (Milk), Vegetable Oil (Coconut Oil, Palm Oil), Calcium Carbonate, Anticaking Agent (E551), Dried Glucose Syrup, Salt, Milk Proteins, Stabilisers (E340ii, E452i), Vitamin Mix (Vitamin C, Niacin, Vitamin E, Pantothenic Acid, Vitamin B6, Riboflavin, Thiamin, Folic Acid, Biotin, Vitamin D, Vitamin B12), Emulsifier (E471), Ferric Pyrophosphate, Zinc Oxide.
Pantothenic Acid (Vit B5), mE
Pantothenic Acid (Vit B5), mE
Join our Mailing List
Stay up to Date
Be the first to hear the latest news on our business and brands.
Follow Us
Get Latest News
Follow Aimia Foods and our brands to stay up to date.