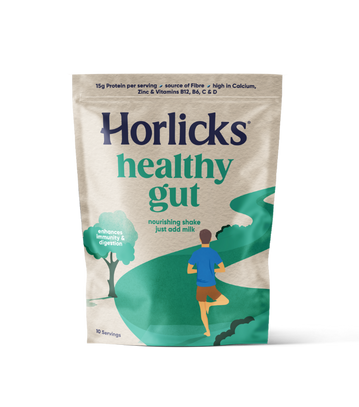 Feeling a little sluggish?
Since your gut is responsible for digesting food, it's important we pay it some attention to keep our body healthy. Alongside a balanced diet, there are certain supplements that we can take to maintain good gut health. 
Healthy Gut provides you with the base vitamins, B12, B6, C and D, to contribute to the normal function of your immune system. We've also chosen gut-friendly ingredients to support your overall wellness - prebiotics and glutamine.
Horlicks Healthy Gut 400g
HHGUT
Ingredients
WHEAT 33% (WHEAT Flour and Malted WHEAT ), Malted BARLEY 27%, Inulin, Skimmed MILK, Whey Protein Concentrate (MILK), Dried Whey (MILK), Calcium Carbonate, Sugar, Palm Oil, Salt, Potassium Carbonate, Vitamins and Mineral Mix (Zinc Sulphate Monohydrate, Vitamin D2, Vitamin C, Vitamin B6), L-Glutamine, Anti-caking Agent (E551), Emulsifier (Sunflower Lecithin).
40g serve with 300ml Semi Skimmed Milk
Pantothenic Acid (Vit B5), mE
Join our Mailing List
Stay up to Date
Be the first to hear the latest news on our business and brands.
Follow Us
Get Latest News
Follow Aimia Foods and our brands to stay up to date.