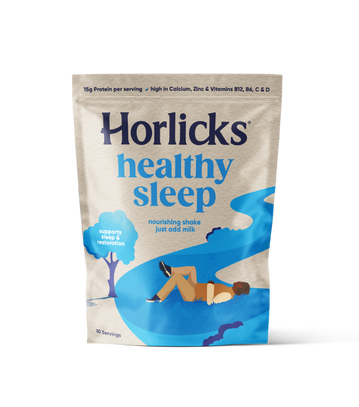 With so much information available, it's common be confused about which vitamins to take for tiredness. The best remedy, of course, is getting the recommended 7-9 hours of slumber, but we understand it isn't always that simple. 
That's where Horlicks Healthy Sleep comes in. In addition to the core blend of vitamins found across the range, this shake contains chamomile and valerian. Helping you feel more rested and restored.
Horlicks Healthy Sleep 400g
HHMIND
Ingredients
WHEAT 36% (WHEAT Flour and Malted WHEAT ), Malted BARLEY 34%, Skimmed MILK, Whey Protein Concentrate (MILK), Dried Whey (MILK), Calcium Carbonate, Sugar, Palm Oil, Salt, Potassium Carbonate, Vitamins and Mineral Mix (Zinc Sulphate Monohydrate, Vitamin D2, Vitamin C, Vitamin B6), Chamomile Flower Extract, Valerian Extract, Anti-caking Agent (E551), Emulsifier (Sunflower Lecithin).
40g serve with 300ml Semi Skimmed Milk
Pantothenic Acid (Vit B5), mE
Join our Mailing List
Stay up to Date
Be the first to hear the latest news on our business and brands.
Follow Us
Get Latest News
Follow Aimia Foods and our brands to stay up to date.