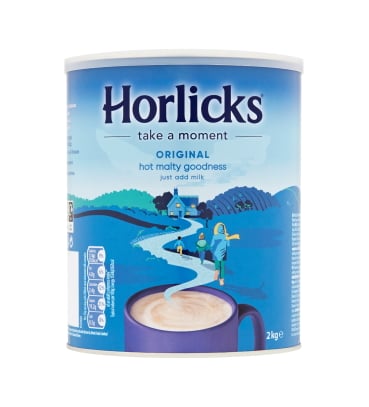 Just add milk and enjoy. Our original malted recipe has been loved for nearly 150 years.
Horlicks Original 2kg
Ideal for foodservice application.
Each mug contains 14 key nutrients including Vitamin C, Vitamin D, Vitamin E, Thiamin (Vit B1), Riboflavin (Vit B2), Niacin, Vitamin B6, Folic Acid, Vitamin B12, Biotin, Pantothenic Acid (Vit B5), Calcium and Fibre (additionally Iron and Zinc).
Malted Drink
HLKTRADC
Ingredients
Wheat 46% (Wheat Flour and Malted Wheat), Malted Barley 26%, Dried Whey (Milk), Calcium Carbonate, Dried Skimmed Milk, Sugar, Palm Oil, Salt, Anti-Caking Agent (E551), Vitamin Mix (Vitamin C, Niacin, Vitamin E, Pantothenic Acid, Vitamin B6, Riboflavin, Thiamin, Folic Acid, Biotin, Vitamin D, Vitamin B12), Ferric Pyrophosphate, Zinc Oxide.
Pantothenic Acid (Vit B5), mE
Pantothenic Acid (Vit B5), mE
Join our Mailing List
Stay up to Date
Be the first to hear the latest news on our business and brands.
Follow Us
Get Latest News
Follow Aimia Foods and our brands to stay up to date.