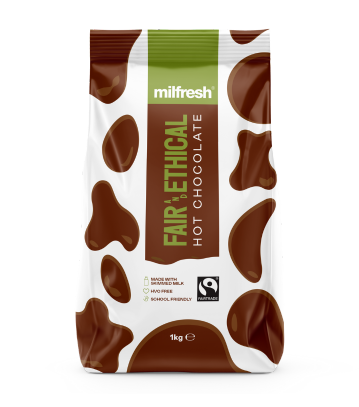 Fair & Ethical Hot Chocolate which contains rich Fairtrade cocoa and a dash of skimmed milk, delivering a sublimely indulgent hot chocolate, just add hot water.
Milfresh Chocolate
Milfresh trusted quality, made with decades of experience and knowledge when it comes to blending recipes for hot chocolate. 
Milfresh Superior and Milfresh Fair & Ethical hot chocolates are school friendly and made with skimmed milk. Simply add hot water to achieve an indulgent, creamy and luxurious hot chocolate taste.
Milfresh offers great flow and solubility qualities and is vending machine friendly. Ideal for automated beverage machines and foodservice environments.
HVO free.
Instant Hot Chocolate Drink.
FTMILCHOC
Ingredients
Sugar, MILK Solids, Cocoa Powder (13.0%), Coconut Fat, Skimmed MILK Powder, Dried Glucose Syrup, Anti-Caking Agent (E551), Stabilisers (E412, E466, E340ii, E452i), Flavourings, Salt, MILK Proteins, Emulsifiers (E471).
Sugar, Cocoa: traded in compliance with Fairtrade Standards, total 52.8%.
Visit: www.info.fairtrade.net
Per 20g Serving + 195ml Hot Water
Join our Mailing List
Stay up to Date
Be the first to hear the latest news on our business and brands.
Follow Us
Get Latest News
Follow Aimia Foods and our brands to stay up to date.