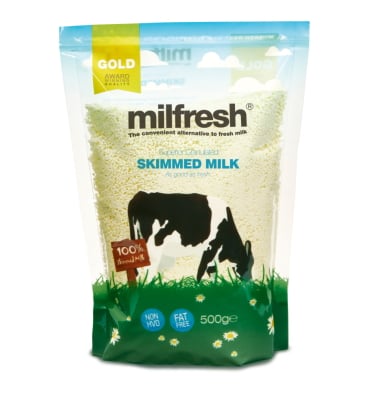 Milfresh Gold Superior Granulated Skimmed Milk
The UK brand leader in granulated skimmed milk. Made with 100% dairy goodness and used as a complete replacement for fresh milk to deliver truly authentic coffee shop style drinks.
Milfresh
Creamy and natural flavour, Milfresh tastes 'as good as fresh'.
The ideal milk solution for creating coffee shop classic drinks, tea, coffee and hot chocolate.
No added sugar, colours, preservatives or flavours. HVO free.
Granulated skimmed milk
SUPSKIM
Ingredients
Per 7oz (200ml) Cappuccino
Join our Mailing List
Stay up to Date
Be the first to hear the latest news on our business and brands.
Follow Us
Get Latest News
Follow Aimia Foods and our brands to stay up to date.