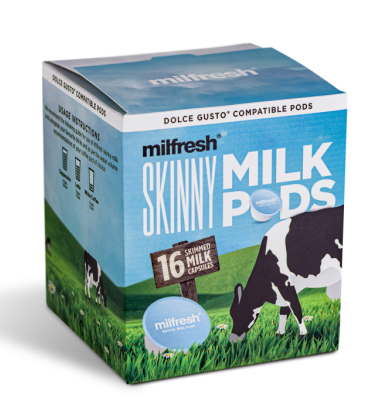 Milfresh Skinny Milk Pods
Made with 100% skimmed milk, Milfresh makes the perfect low fat "skinny" coffee, cappuccino and latte at the touch of a button and tastes "as good as fresh".
Milfresh
Dolce Gusto® compatible* skimmed milk pods.
Made with 100% skimmed milk, there are no added sugars, flavours or colours in Milfresh. It has a natural-neutral taste with a creamy texture.
Fat free – Perfect for health conscious coffee lovers. There are no added colours, preservatives or hydrogenated Fats.
Makes 3 delicious types of coffee shop style drinks including: CAPPUCCINO (Set your machine to 6 bar or use 200ml of water), LATTE (Set to 5 bar or use 170ml water) and WHITE AMERICANO (Set to 2 bar or use 50ml water).
*Dolce Gusto® is a third party brand (owned by Société des Produits Nestlé S.A) with no link to Aimia Foods Limited
Skimmed milk pods
MILFPOD
Ingredients
Join our Mailing List
Stay up to Date
Be the first to hear the latest news on our business and brands.
Follow Us
Get Latest News
Follow Aimia Foods and our brands to stay up to date.