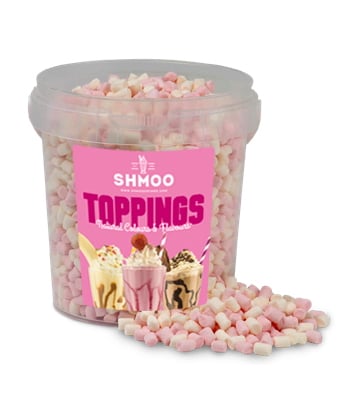 Delicious pink and white marshmallow topping for milkshake, ice cream, sundaes and more.
Shmoo
3 delicious toppings are available including: Chocolate Curls, Mini-Marshmallows and Chocolate Jazzies.
Attract new customers with exciting toppings and additions to customise your milkshakes.
A quick, easy and efficient way to add extra profit and create higher margins.
Pink and white vanilla flavoured marshmallows.
TOPPMALLOW
Ingredients
Glucose-fructose syrup, Sugar, Water, Pork Gelatine, Anti-caking agent (Maize starch), Colour (E162), Flavouring.
Join our Mailing List
Stay up to Date
Be the first to hear the latest news on our business and brands.
Follow Us
Get Latest News
Follow Aimia Foods and our brands to stay up to date.