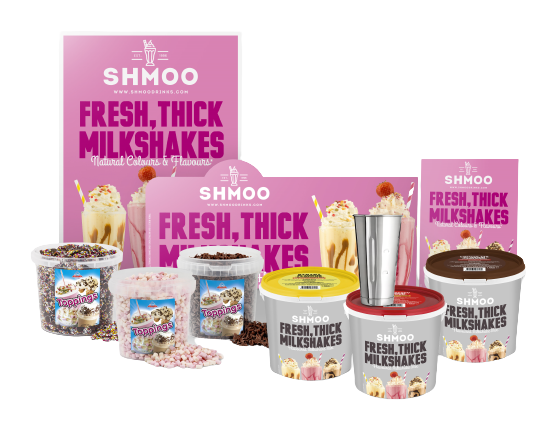 Shmoo Starter Kit containing all you need to get started with Shmoo! The kit contains our x3 best selling Shmoo mix flavours (Strawberry, Chocolate & Banana), Metal mixing jug, x3 Shmoo toppings (Chocolate Jazzies, Mini Mallows & Chocolate Swirls), and some Shmoo point of sale to attract new customers!
Shmoo
3 delicious toppings are available including: Chocolate Curls, Mini-Marshmallows and Chocolate Jazzies.
Attract new customers with exciting toppings and additions to customise your milkshakes.
A quick, easy and efficient way to add extra profit and create higher margins.
Join our Mailing List
Stay up to Date
Be the first to hear the latest news on our business and brands.
Follow Us
Get Latest News
Follow Aimia Foods and our brands to stay up to date.