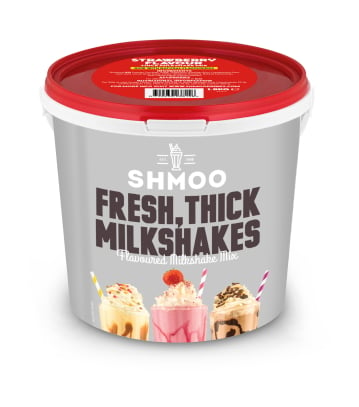 Delicious authentic strawberry flavour milkshake mix for a smooth and creamy American style milkshake. 138 regular or 78 large servings per tub.
Shmoo
Available in 8 delicious flavours including: Chocolate, Strawberry, Banana, Vanilla, Cappuccino, Chocolate Mint, Raspberry & White Chocolate, and Bubblegum.
The quick and simple method of making a fresh, thick shake, with absolutely no compromise on taste or texture.
Strawberry flavour thick milkshake mix
STRAWSMP
Ingredients
Skimmed Milk Powder, Fructose, Sugar, Thickeners (Xanthan Gum, Carrageenan Gum, Guar Gum, Locust Bean Gum), Colour (Beetroot Powder), Natural Flavourings, Anti-Caking Agent (Silicon Dioxide).
Per 300ml Serving (13g + 125ml Semi-Skimmed Milk)
Per 600ml Serving (23g + 245ml Semi-Skimmed Milk)
Join our Mailing List
Stay up to Date
Be the first to hear the latest news on our business and brands.
Follow Us
Get Latest News
Follow Aimia Foods and our brands to stay up to date.